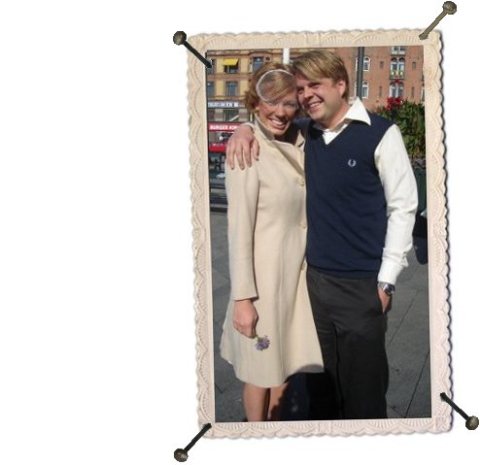 This picture was taken on the 27th of September 2007, the day Anders and I got married! -Boy, those two years went by fast…
Could you find a more perfect day for happy announcements?    -I have one!
If everything goes as planned, Anders and I are going to have a baby this Spring. I wanted to be as sure as you can be with these kind of things before telling you… Three and a half month feels like forever when you walk around with such exciting news in your stomach!
Maybe you've already noticed that I'm not as reliable as I used to be when it comes to posting every day, and even though I don't have a big stomach yet, you might have noticed it growing lately… I'm having trouble with my "What I wore posts" because I don't  really feel like dressing up and I can't fit into most of my jeans or skirts any more. I'm working on a new idea for the weekly fashion post to compensate, but I'll keep you posted on this.
Besides being crazy tired I feel great, and we are both so happy and very excited!
We are celebrating our wedding anniversary tonight at this restaurant.