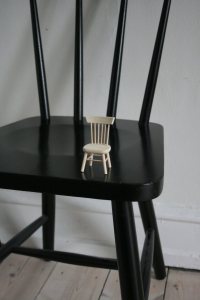 The shop where I buy my miniature stuff feels like a parallel universe.
It is a tiny very old fashioned and always crowded place, which you barely notice from the outside. It is always the same two people standing behind the counter and after having been there quite a lot recently I've notisted that most of the customers are the same. Everybody knows the staff, or is it the other way around?
I am by far the youngest person there.
I love the serious but silly conversations among the costumers and clerks. It always makes me smile.
Today I bought four small chairs. I'm gonna paint them black.