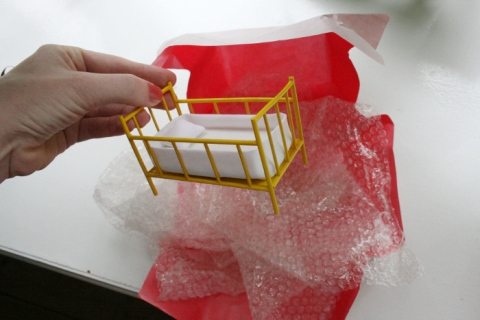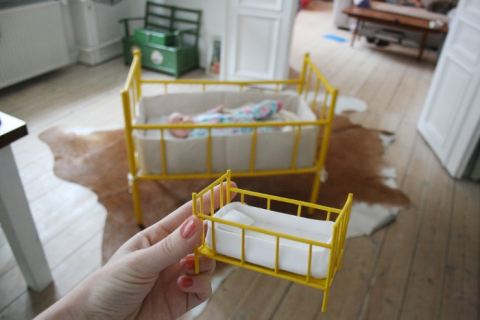 As most of you know my miniature home has been pushed aside by my this miniature-person lately. It has been standing on top of a closet for quite a while now and when I took it down today I realized that I have changed A LOT of stuff in our home since the last time I worked on it. Most of the furnitures has been removed or replaced and quite a few baby-items like a nursing-table, a rocking horse and a tiny bench has sneaked inhere meanwhile. Now I have this sudden urge to empty the house completely and start all over -just for the fun of it!
And now to the mystery box from yesterday. As I said it was from Poland and more specifically it was from a fellow blogger of mine 'Aga Plieth'. Imagine how surprised  I was when I opened this present? 'Aga Plieth' made me a perfect miniature-copy of Vilja's  yellow crib.
I had such a busy day yesterday that I only had time to open it right before I went to bed and I became so excited about this gesture that I almost couldt'n fall asleep afterwords.
Thank you so much 'Aga Plieth' your present blew me away.
And just to keep you guys tuned; this was not the only thing in the surprise package, I'll show you more soon.